1 Carter D Holton of the Christian Missionary Alliance
Duration: 45 mins 45 secs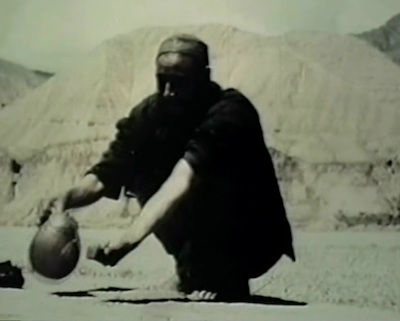 Description:
Video Clip 1: Carter D Holton of the Christian Missionary Alliance.

Carter D Holton (1901-1973), a missionary in western China until leaving in 1948, made these films in Gansu and Qinghai in the 1930-1948 period. The films depict Tibetans, Mangghuer (Tu), Muslims, and Han Chinese in trade, travel, agriculture, religious ritual, and so on.

This is the only extant video that we are aware of depicting the Minhe Mangghuer (Tu) during 1930-1940.

Holton died at the age of 72 in Riverside, California. He was born in Chetek, Wisconsin and attended Simpson College in Nyack, New York. In the fall of 1923, he and his fiancee, Lora Newberry, traveled separately to China, arriving eventually in Gansu Province. They were married in 1925, and continued their work in China for the next 25 years.

Voice-over was done in 1995 by Robert Carlson with some assistance from Robert Shuster. Robert Carlson specifically mentions a solar eclipse briefly featured in the video as occurring on 21 August 1941.

Video courtesy of the Christian and Missionary Alliance National Archives | Colorado Springs, CO, USA.