Endless Forms Audio Guide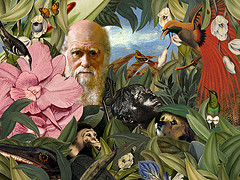 Created:
2009-06-09 08:57
Institution:
Fitzwilliam Museum
Description:
This collection contains video and audio versions of the Audio Guide for the Darwin Endless Forms Exhibition - an exhibition held at the Fitzwilliam Museum from 16 June - 4 October 2009 (http://www.darwinendlessforms.org/).

A tour of selected exhibits with commentary by the exhibition curators Jane Munro and Diana Donald.
This collection contains 23 media items.
Paul Cézanne, Marion and Valabrègue Setting out to Paint from Nature, 1866, oil on canvas, 39 x 31 cm., Museo Soumaya, Mexico City
Collection: Endless Forms Audio Guide
Institution: Fitzwilliam Museum
Created: Tue 9 Jun 2009
Edgar Degas, Little Dancer Aged Fourteen, bronze cast of ca. 1922, with fabric skirt, from an original of ca. 1878-81 in wax and mixed media, 96.5 x 40.6 x 26 cm., Robert and Lisa...
Collection: Endless Forms Audio Guide
Institution: Fitzwilliam Museum
Created: Tue 9 Jun 2009